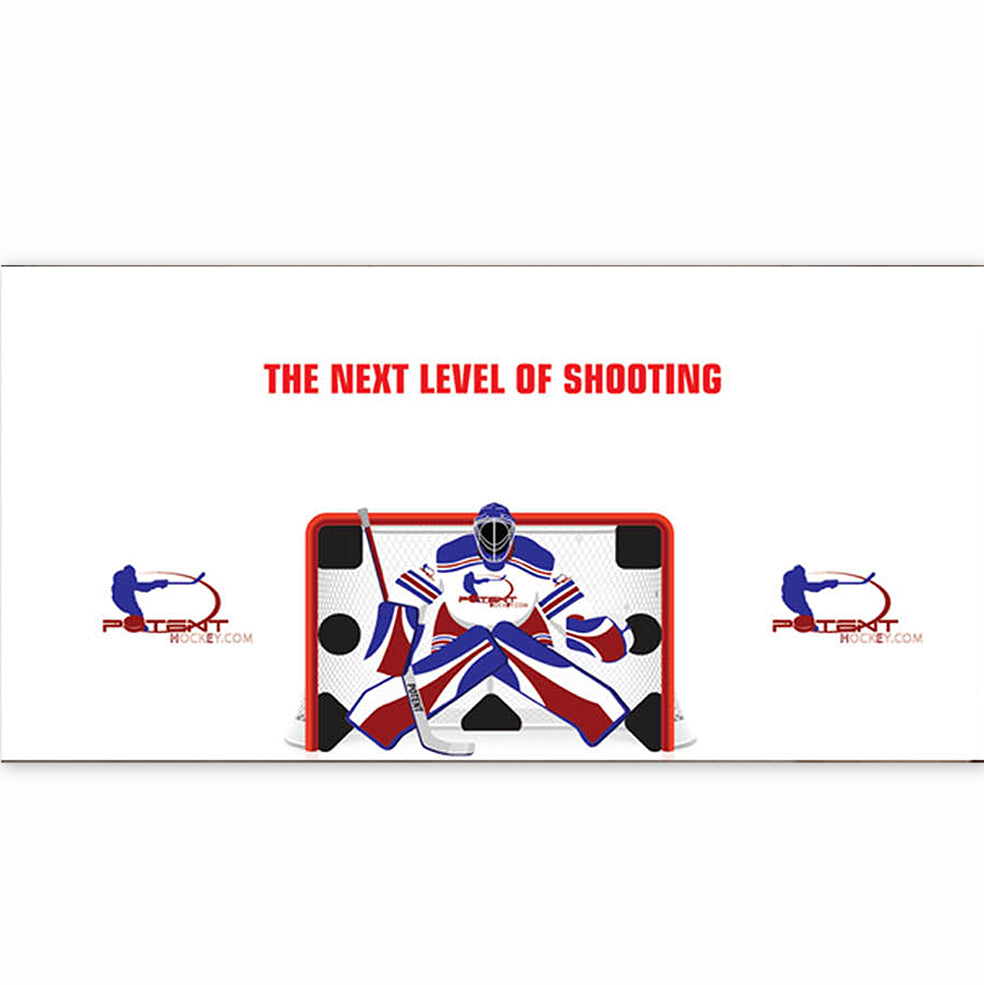 Shooting Tarp
---
In stock, ready to ship

Inventory on the way
---
ELEVATE YOUR SHOOTING SKILLS WITH THE SHOOTING TARP
Introducing the Shooting Tarp, the ultimate hockey training tool designed for home use. This large and protective tarp offers players a safe and convenient way to practice their shooting skills without causing any damage to windows, walls, or garages. With easy installation and exceptional durability, this tarp will make a significant difference in your everyday training!
Product Features:
✅ Develop Power and Precision: Take your game to the next level with the Shooting Tarp. It provides the perfect surface to develop harder and more precise shots, helping you improve your accuracy and scoring ability on the ice. Elevate your skills and become a scoring threat with every shot.
✅ Maximize Practice Time: Say goodbye to puck chasing! The Shooting Tarp allows you to get more practice in less time. The target holes are strategically positioned to catch pucks, keeping them within the tarp's large pocket. This means you can focus on shooting instead of constantly retrieving pucks, maximizing your training efficiency.
✅ Simulate Game Situations: Experience a realistic game situation with the Shooting Tarp. It features a goalie design, enabling you to practice shooting against a simulated goaltender. This immersive training experience enhances your ability to read and react in real-game scenarios, giving you an edge on the ice.
✅ Regulation Size and Weight: Practice with confidence using regulation size and weight pucks. The Shooting Tarp allows you to train with the same equipment you use during games, ensuring a seamless transition from practice to competition. Sharpen your skills using the tools of the trade.
✅ Large Size, Easy Installation: Measuring 7'x16', the Shooting Tarp provides ample coverage for large shooting areas. Whether in your basement or garage, this tarp is the perfect fit for your training space. It is easy to install, allowing you to start practicing in no time. Simply set it up and let your shooting skills flourish.
✅ Durable and Long-lasting: Built to withstand the intensity of hockey training, the Shooting Tarp is incredibly durable. Its high-quality materials ensure it can withstand the impact of repeated shots, providing long-lasting performance. Train with confidence knowing that your Shooting Tarp is designed to endure.
Take Control of Your Training
Invest in the Shooting Tarp and revolutionize your hockey training routine. Develop powerful shots, increase accuracy, and simulate game situations, all from the comfort of your own home. Perfect for any aspiring player or seasoned athlete, this tarp is the key to taking your shooting skills to new heights.
Order Your Shooting Tarp Today and Unleash Your Shooting Potential!