Potent Ice Treadmill
Regular price
$47,200.00
Sale price
$23,800.00
/
---
Low stock - 2 items left

Inventory on the way
---
UNLEASH YOUR SKATING POTENTIAL WITH THE POTENT ICE TREADMILL

Are you ready to take your skating skills and endurance to the next level? Look no further than the Potent Ice Treadmill, the ultimate ice skating machine designed for hockey players of all levels. With its reliability, safety features, and effectiveness, this treadmill is your ticket to enhanced performance on the ice.

Why Choose the Potent Ice Treadmill?

The Potent Ice Treadmill is your key to unlocking your full potential as a hockey player. Whether you're a beginner or an advanced skater, this treadmill allows you to refine your skating mechanics and master the basics in a controlled environment. It even comes with an Exclusive Hockey Video Training Program, providing you with valuable insights to improve your skating, speed, agility, and power.


Features That Set the Potent Ice Treadmill Apart:

✅ High-Performance Machine for All Skill Levels: With a powerful motor capable of reaching speeds up to 20 miles per hour (32 km/h), the Potent Ice Hockey Treadmill caters to players of all ages and abilities. You have complete control over the speed using a remote control.

✅ Ice-Like Belt Surface for Optimal Training: The treadmill's skating surface is made of high-quality synthetic ice that closely mimics the feel and function of real ice. It provides a firm, smooth, and self-lubricating surface to skate on, ensuring your skates won't dull quickly. The ice surface can be adjusted to various angles (up to 6°) using a hydraulic system, offering a challenge to skaters at any skill level.

✅ Advanced, Yet, User-Friendly: The Potent Ice Hockey Treadmill features a customizable control system that allows you to monitor and adjust speed and incline via a remote control or optional touch screen. Stay informed with real-time information such as speed, time, incline, and more.

✅ Safety at Its Core: Designed with user safety in mind, the Potent Ice Treadmill is equipped with a height-adjustable rod for superior balance support. The speed control system can be adjusted according to your ability, and three harnesses ensure maximum protection during training.


Benefits of the Potent Ice Treadmill

✅ Improve Strength and Conditioning: Strengthen your skating muscles and enhance your overall fitness. Perform drills such as sprints, increase incline for more challenging workouts, or even add weights to develop the strength and endurance required for top-level hockey performance.

✅ Boost Skating Skills: Skating is the foundation of hockey, and the Potent Ice Treadmill enables you to practice and refine your skating techniques, speed, agility, and power in a controlled environment. With its realistic ice-like surface, you'll feel like you're skating on a rink.

✅ Year-Round Stress-Free Training: Enjoy safe and effective training without worrying about injuries or missing practice time. The Potent Ice Treadmill allows you to skate indoors all year long, eliminating the need for rink access.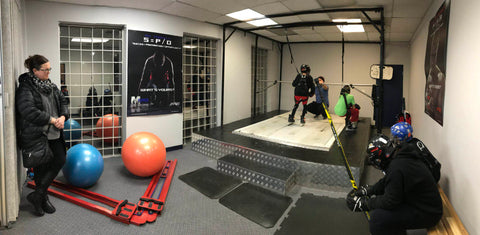 Specifications
Ice Surface Size: 1.8m x 2m (6ft x 6.5ft)
Material: Synthetic ice
Base Frame Size: 2m x 3.3m (6.5ft x 10.8ft)
Speed (Max): 35km/h or 20mph
Maximum Adjustable Angle: 6°
Recommended Ages: 4 years old and up
Safety Harness: 3 sets
Self-lubricating system
External Frame Support: 3.5m x 3m x 3m (11.5ft x 10ft x 10ft)
Gross Weight: 1.5t (3300lbs)
Voltage: 240V
Power: 5.5kw

Please note: The synthetic ice generally lasts 4-5 years before a replacement is needed. Cost is approximately $2800 USD.

Who Should Get It?

The Potent Ice Treadmill is perfect for beginners to pros. The treadmill can be used for indoor training all year long.

With a powerful motor, an ice-like surface, sturdy frame, and advanced control system, the Potent Ice Skating Treadmill is a great investment for hockey players who want to improve their skating skills and conditioning.

Plus, it even comes with our exclusive video training guide and ice-skating lessons. This means that you'll have everything you need to get started right out of the box.

Why Potent Hockey?

We have supplied high quality ice treadmills to hockey players and teams around the world for more than eight years. Our innovative engineering team has developed an advanced ice treadmill system that's affordable, safe, and built to last.

It offers the best value for money at less than half the price of comparable ice treadmills in the market. Hence, The Potent Ice Treadmill is the best investment for hockey players who want to seriously improve their ice skating skills and conditioning.


WARRANTY: Our ice treadmill is safe, reliable, and backed by a full 1-year warranty on the machine and a 2-years warranty for the synthetic ice.

DELIVERY: We ship to the United States, Canada, and the EU region. Shipping cost is not included. Shipping time is roughly 4-6 weeks. Please contact us for more information.

PAYMENTS: *4-month split payment option available. Contact us for more information.


Get Your Skates Ready & Buy a Potent Ice Treadmill today!